Subtract the alcohol, but not the expectations. This Signature G&T has the alcohol whisked away, but packs a flavourful punch. Master-distilled botanicals and Riverland citrus mingle with superior no-sugar sparkling tonic. Vibrant and dimensional, for the more demanding palate. Twenty Third Street is about creating great spirits and celebrating all creativity. We're passionate about crafted spirits, distilled to the utmost quality from Australian ingredients, with something intriguing and new always around the corner. We're a spirit for everyone. The Twenty Third Street Signature Gin recipe is bolstered with an extra concentration of citrus and botanicals prior to distillation, to ensure the flavour profile remains punchy and balanced after the alcohol content is reduced. The sugar-free tonic mixer is created to perfectly complement the Signature flavour profile, with classic bitterness and just a calculated hint of sweetness.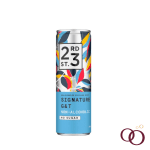 Frequently Asked Questions
1. What is the most popular non-alcoholic drink in Australia?

Australian alcohol free beers are some of the best quality in the world. We stock many award winning non-alcoholic beers from lagers, IPAs and stouts. We guarantee full flavoured drinks with no alcohol.

2. Where can I buy alcohol online in Australia?

You can buy a wide range of non-alcoholic products on tabooze.com.au. All of our drinks are carefully curated following extensive taste tests. If doesn't make the grade, it won't make to the shop.

3. What is the healthiest non-alcoholic drink?

For zero alcohol, zero calories you cannot go past mixing one of your favourite clear distillations – like Ovant, Clovendoe or Brunswick Aces – with soda. Muddle some mint or berries, add lots of ice and garnish with fruit.

4. What alcohol free drinks are available?

At tabooze.com.au you can select from a range of alcohol free drinks. We stock beers from Australia and around the world, red, white, pink and sparkling wines, distillations that are bursting with flavour ready for your favourite cocktail and drinks that have been carefully created with amazing ingredients to tingle your tastebuds.
10% off your first order!